As most organizations use budgeting and performance management products for an average of 7-10 years, selecting the right solution is very important. To achieve success, the process of finding the right solution should always start by defining quality requirements.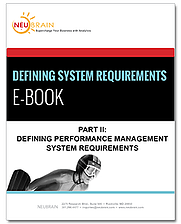 Whether your company is considering a software change now or in the future, read this brief e-Book "How to Define Budgeting and Performance Management System Requirements, Part II - Performance Management".

From this e-Book, you will learn:
• Why defining quality requirements is essential
• The steps to getting started
• Functional requirements and how to analyze them
• How to organize your findings

View the e-Book to learn more!