PERFORMANCE-BASED BUDGETING TRAINING
This training is recommended for organizations at the beginning stage of establishing their PBB capabilities.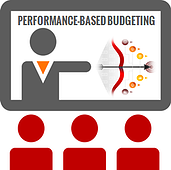 Performance-Based Budgeting (PBB) is an effort to turn dollars into results, by outlining a general chain of cause-and-effect. It is a way to allocate resources to achieve specific objectives based on goals, priorities and measured results.
Performance-Based Budgets use statements of missions, goals and objectives to explain why money is being spent. For organizations looking to establish their PBB capabilities Neubrain offers the following PBB training:
"Neubrain staff was highly effective in training our MBA students the fundamentals of business analytics."
Dr. William DeLone, Professor of Information Technology, Kogod School of Business, American University