Yana McConaty, the co-founder of Neubrain, explains four common budgeting challenges controllers need to be aware of and offers key best practices for keeping the budgeting process on track. From this interview, you will learn:
How to improve ROI and perform in-depth analysis.
Why you should use an evaluation framework that is based on priority.
How traditional budgeting is often based on inaccurate assumptions.
Why budgets are often set in stone and difficult to adjust.
READ THE FULL INTERVIEW NOW!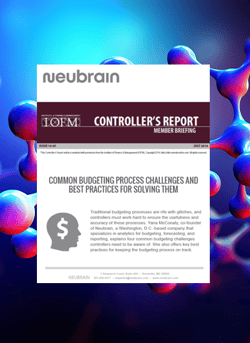 This Controller's Report article is reprinted with permission from the Institute of Finance & Management (IOFM), Copyright 2014, http://iofm.memberclicks.net/. All rights reserved.
COMMON BUDGETING PROCESS CHALLENGES AND BEST PRACTICES FOR SOLVING THEM