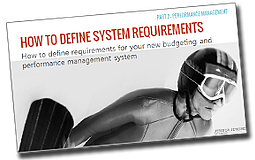 As most organizations use budgeting and performance management products for an average of 7-10 years, selecting the right solution is very important. To achieve success, the process of finding the right solution should always start by defining quality requirements.


Whether your company is considering a software change now or in the future, join us in our upcoming webinar, "How to Define Budgeting and Performance Management System Requirements, Part II - Performance Management" on February 20 in which Neubrain experts will share our methodology and best practices on how to define and analyze performance management system requirements.
From this webinar, you will learn:
• Basic performance management tools and components
• Common process challenges and technology barriers
• Steps to improve performance management
• What functional requirements are and how to analyze them
• Why defining quality requirements is essential
• How to organize your findings


Space is limited.

Register now.