"Smarter and faster - thanks to Neubrain! Today our budget personnel prepare complex Congressional Budget submissions and analysis with ease and confidence."
-Military Personnel Appropriation Manager, Air National Guard
Are you stretched thin for time? Do you find that despite the many pitfalls in your current financial management solution, it is too taxing to discover, implement, and learn another? You are not the only department, division, or agency. We're here to help!
Neubrain's Government Comptroller Toolkit is a state-of-the-art business analytics system used by budget and financial analysts, cost planners, and program managers to perform budgeting (including Congressional Budget Justification), analysis, planning, and reporting tasks.
DOWNLOAD SOLUTION BRIEF AND LEARN MORE!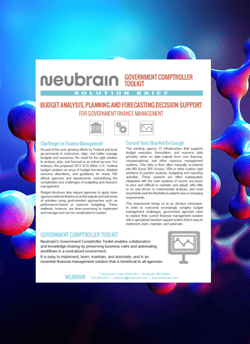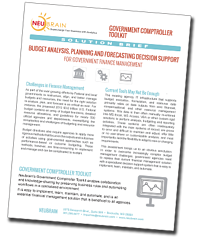 GOVERNMENT COMPTROLLER TOOLKIT
RESOURCES FOR BUDGETING AND FINANCIAL MANAGEMENT