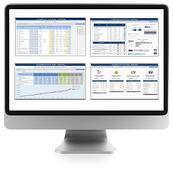 Deciding to implement a new budgeting process and software solution can be a daunting task with costly consequences.
That is why it is critical to understand your needs, know your options and equip yourself with the right tools and resources before you make any changes to your budget methodology.
To gain the necessary knowledge to confidently implement a smarter-spending solution that delivers key benefits for your entire organization, you won't want to miss our free demo webinar on April 10th at 2:00pm.

"Smarter-spending Solutions for State and Local Governments:


How to Streamline Budgeting, Planning and Forecasting Processes and Get Your Budget on Track"




In this free demo webinar, you will see firsthand how the right budgeting software can effectively and efficiently transform even the most complex budgeting, financial consolidation and reporting processes into a simple, easy-to-use framework.


SPACE IS LIMITED. REGISTER TODAY!