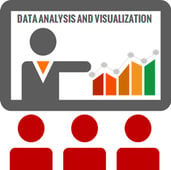 Data visualization tools are becoming more popular and necessary to deal with exponential data growth, but the cost of purchasing separate solutions, and the time it takes to implement each one, makes it a great challenge.
An old saying by Michelangelo says: "Man paints with his brain, not his hand." This rings true for the creation of visual reports and dashboards. In our experience, many projects delivered subpar results and visualization tools become shelf wear. This is primarily due to poorly designed visual analysis models and/or lack of internal skills to properly plan, manage and deliver the required capabilities.
Data Visualization 101 (1 day)
Data Visualization 101 is 1-day course designed for business and technology professionals who would like to enhance their knowledge of data visualization principles, methodologies and software tools. Class assignments include reading, case studies and exposure to the visualization software tools:
What is a Business Analytics Dashboard?
Dashboard vs. Report vs. Scorecard vs. KPI
Categorizing Dashboards
Common Mistakes in Dashboard Design
Principles of Visual Perception
Goals in the Visual Design Process
Select the Best Display Medium
Analytical Interaction
Dashboard Implementation Methodology
Sample Dashboard Requirements Questionnaire
Software Vendor Landscape: Who is Who in Interactive Visualization?